The European Union's agenda towards decarbonisation includes shifting urban logistics into a more sustainable industry. As a fast-evolving sector defined by the development of new technologies and accelerated automation, freight and logistics hold great promise for the near future. The NextETRUCK project is committed to engaging actors from research institutions to vehicle and component manufacturers, associations, and ITS and IoT services-related companies to work on five innovations to ensure optimal market entry. 
The project has a dedicated team working to manage and monitor the development of five cutting-edge innovations. Their primary focus is identifying potential roadblocks and securing technical, legal, financial and contractual readiness. The ultimate goal is to deliver a range of pioneering technologies and services, ensuring the project's sustainability and enabling the successful introduction of the developed innovations to the market.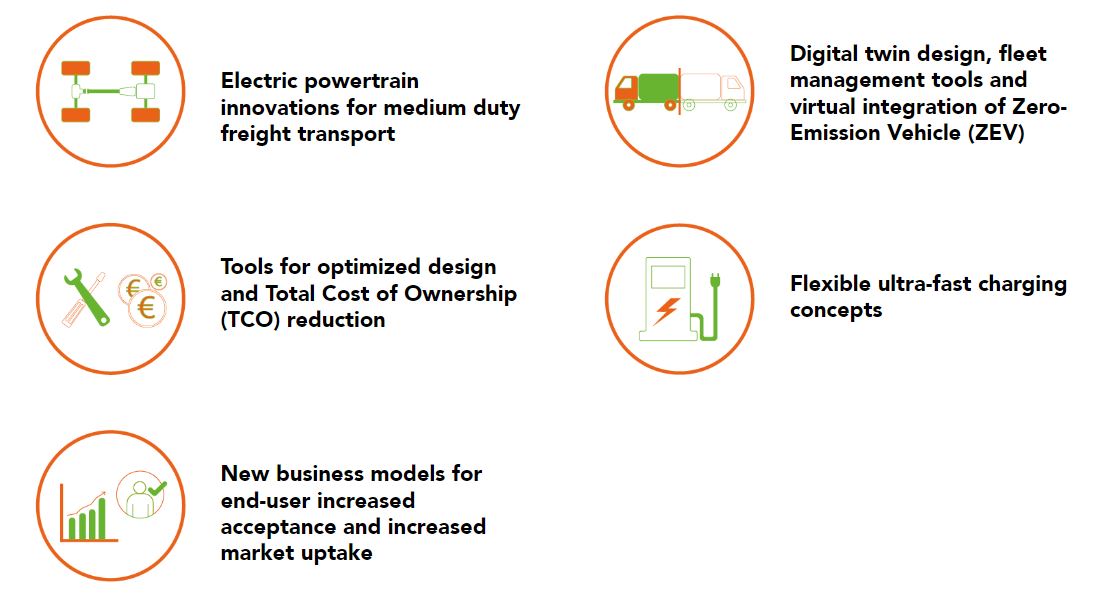 Electric powertrain innovations for medium duty freight transport
NextETRUCK medium-duty freight vehicles will feature electric powertrains. A modular design enables its integration into different truck models. Higher efficiency and smaller component dimensions lead to a significant reduction in energy losses on zero-emission vehicles (ZEVs). The powertrain will also feature a regenerative braking system that can recover energy during deceleration and reduce the energy required to operate the truck. In addition, the project improves reliability performance by implementing novel thermal solutions, smart controls, and advanced predictive maintenance algorithms.
Digital twin design, fleet management and virtual integration of ZEVs
The NextETRUCK partners will perform digital twins, virtually representing the electric trucks to enable accurate performance estimations that will optimise operations. The project will also develop fleet management tools to evaluate the environmental and potential cost savings of zero-emission trucks over their lifecycle compared to alternative technologies. The digital twin will also serve in the creation of charging systems-related techniques. These methods will offer valuable features to logistics planners, operators, OEMs, and Tiers, providing them with useful functionality.
Tools for optimized design and Total Cost Ownership (TCO) reduction
Total Cost of Ownership (TCO) calculations are a crucial part of the project to optimise truck components' costs from a user perspective, assessing the viability of using electric trucks under certain conditions. Policymakers and fleet owners can then determine the potential for electrification in their market and specific use cases. Improvements to the vehicle cabin, HVAC system, and cooling system are planned to reduce TCO further by increasing the driving range and efficiency of the thermal management system. This will enable users to operate the vehicle in extended duty cycles, reducing TCO.
Flexible ultra-fast charging concepts
The consortium strives to provide cost-effective solutions to minimize charging-related costs for fleets of electric vehicles, determining a charge plan for the entire fleet that will define the optimal time and duration of charging processes. This innovation will enhance the charging infrastructure by considering multiple criteria, reducing the negative effects of peak demand and untimely or excessive charging profiles for the fleet. A user interface will facilitate interaction with drivers, charging operators, and fleet managers.
New business models for end-user increased acceptance and increased market uptake
NextETRUCK will explore new business models to accelerate e-trucks commercialization and facilitate market replenishment of conventional models like diesel-fuel trucks. These novel models will follow a circular economy approach, sharing e-trucks among multiple fleet owners and repurposing second-life batteries for stationary storage. The project will assess the viability of new use cases in selected geographies.